Bringing a prospect along through the buyer's journey will look different each and every time you do it. Regardless of what that path looks like, you can't deny the importance of creating urgency through the use of calls to action, or CTA's, to help move your prospect or customer forward in that journey.
Given the current state of the world, all of this is now done purely in virtual environments, creating even more value with every interaction you have with a prospect, especially through CTA's, when you have an opportunity to push them closer to becoming a customer.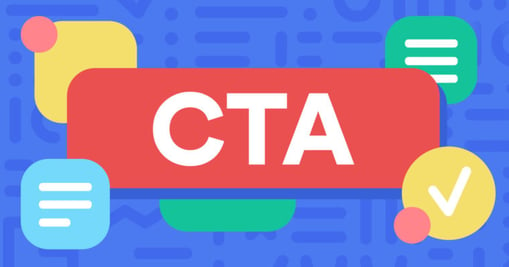 There are so many ways that you can deliver CTAs to the world through landing pages, social media, marketing campaigns, or through physical advertising. Given my role in the events industry, however, I will share 3 different ways you can generate meaningful CTAs throughout a virtual event or webinar setting so that you can better understand where your audience is in their buyer's journey.
Registration
Getting people interested in joining your event is the first and quite possibly the biggest step in the process. Starting with the end in mind and working backwards is the best approach in mounting your efforts here. Creating a registration page is a great way to gather basic contact information to know who will be attending your event.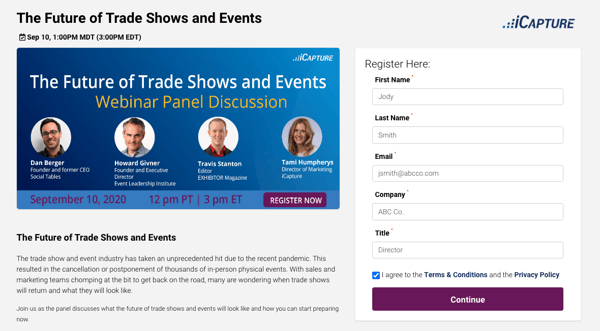 Additionally, including questions that help you understand the audience needs and background information can help frame up just where they are in the buyer's journey. It can also be helpful to reference what data points you need to know and any scoring details from your CRM or Marketing Automation System that are needed as your audience turns into leads that are worked at a later time.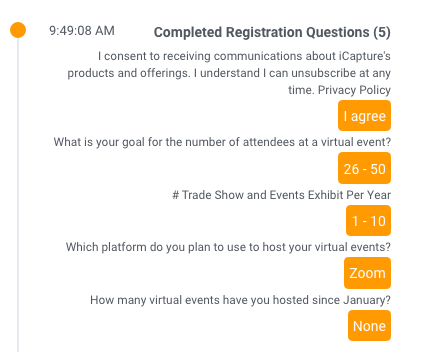 Once you have a registration page built, it's time to create a simple but effective CTA to drive people to register and attend. Considering the physical CTA, creating a brightly colored easy to read button will make it easy for people to find their way to the landing page. How you deliver that button is even more important.
Take a look at your different channels in which you can incorporate this invitation. Social media, email campaigns, and website landing pages are all great ways to generate interest; but don't stop there! Explore getting your sales, success, or support teams involved in incorporating details into their existing conversations. The best way to approach sending an invitation to a virtual event is to set it up as a party that they do not want to miss out on!
Event Interactions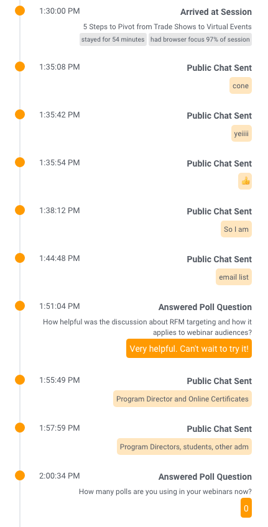 Polls: Polls are a very easy way to call upon your audience to interact with you at your event. It doesn't take much time or energy for the audience to respond to a poll with a click or two, however, as a presenter, you can learn a great deal from that interaction. Not only do you know that your audience is engaged in your conversation, but if the poll question aligns with your overall event strategy, it can become a solid data point in which you can measure each audience member and their value as a qualified lead.
Chat: Getting participants to interact with you and each other is a great way to boost engagement at a virtual event. How do you get people to open up on the chat? Break the ice! Open the event with an ice breaker so that the audience can not only loosen up, but also become familiar with the format of chatting amongst themselves or by asking presenters questions.
Deliverables: Gifting your audience with additional information or knowledge by the way of document or link to literature can be a great way to educate prospects further. This is also another great data point to collect in measuring their engagement by how they interact with these deliverables.
Post Event Follow Up
It is recommended that you close your event with a general call to action or next step, urging your audience to connect for further discussion. By collecting information around how they interacted with the above mentioned points, you will have a better understanding of where they are at in their buyers journey and can custom tailor the follow up communication to be most effective in bringing them closer to closing the sale.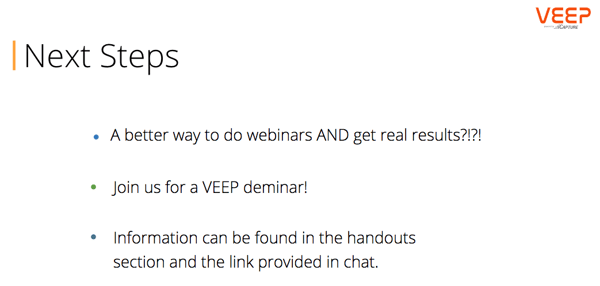 Oh, and don't give up after the first follow up! According to zoominfo.com, 44% of sales reps give up after one follow up attempt. From the same source of info, 55% of deals are closed after following up 5 times - stay the course!
Setting up and running webinars can be a daunting task, however, they can also be an excellent way to efficiently and effectively reach a larger audience of qualified leads. How else can you get in front of hundreds of potential customers within an hour's time (Outside of live events of course!)?
Here at iCapture, we built VEEP with all of this in mind. VEEP allows you to seamlessly execute all of your calls to action in an engaging way and have better visibility into how your audience is engaging with you during your webinars. Don't leave any leads on the table because you don't have the visibility or analytics to understand where they are at in their journey!

Come check out VEEP during one of our weekly product tours and see how it can help you increase your revenue! (Couldn't resist ending with a strong call to action!)